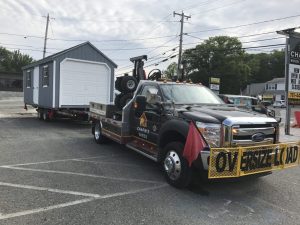 It is vital that you understand your options for delivery because if you need it assembled on-site, we do not want to start building it at our location. Regardless if you are in need of a horse barn or outdoor storage sheds in MA, the team at Chapin Sheds offers two ways of delivery. Determine which one is better for you below.
Fully Assembled
If you have chosen your shed to be delivered fully assembled, then our team will need a clear path at least 2 feet wider than the dimensions of your shed to maneuver it into position. Our team can place your new shed into tight locations.
Assembled On-Site
If we are unable to transport your shed to the position you have selected, the team at Chapin Sheds will build it on-site. We will bring all the materials needed to complete the job.
Before our team delivers your fully-assembled shed or builds it on-site, you will need to prepare the site by digging up the grass and filling the area with crushed stone. If you are unable to prepare the site, our team can handle it for you.
For additional information about our processes regarding outdoor storage sheds in MA, give us a call at (781) 447-4700 today and speak with one of our team members.