Are you considering building a shed in your backyard because you need additional space? There are many advantages to having an outdoor shed, but you do not have to build it yourself. Fortunately, Chapin Sheds can deliver assembled storage sheds directly to your home or wherever you need the extra space.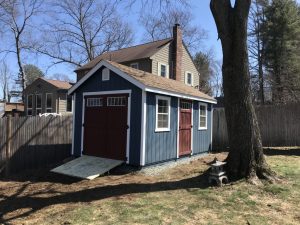 Save Time
When you build something yourself, you need time to gather all of the right materials and then even more time to actually complete the project. Don't waste your weekends building a shed when the team at Chapin Sheds can deliver one.
Less Risk
Building a shed can be dangerous with all the tools that are needed. Many things could go wrong with ladders and tools, which means there is a high risk of injury. However, when you hire the experienced team at Chapin Sheds, we will handle everything for you.
Simple Process
The process is simple because all you have to do is tell us the type of outdoor shed you want and we will build it for you. You can customize every inch of the shed to your exact needs. We will either deliver the shed assembled or we will build it on-site.
Dial (781) 447-4700 for assembled storage sheds.